XL52K04 XL520 Combo With Motor、Esc And servo
Introduction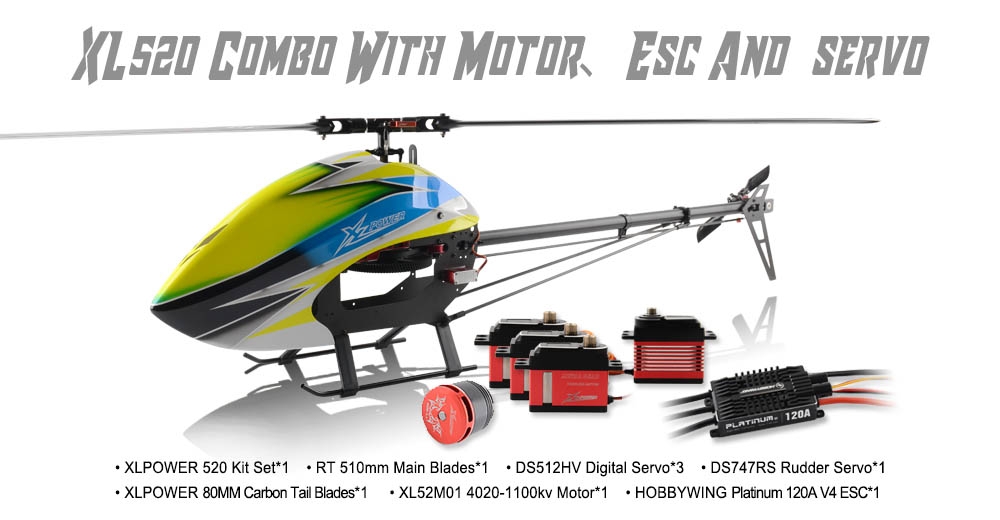 SPECIFICATIONS:
Lenght: 1010mm
Height: 310mm
Width: 160mm
Main blade size: 425mm - 520mm
Tail blade size: 72mm - 86mm
Motor pinion: 12t included;13t optional
Helical CNC Main gear: 106t
Tail pinion: 13T
Autorotation gear: 60T
Main to tail gear ratio: 4.615
RTF weight: 2400g-2700g
Main shaft diameter: 10mm
Feathering shaft diameter: 8mm
Tail boom diamater: 20mm
Max battery size: 220mm*48mm*55mm(6s)
Includes:
(1) XLPower 520Kit
(1) XLPower 4020 Brushless Motor
(1) HOBBYWING platinum 120A V4 ESC
(1) Set of RT 510mm Rotor Blades
(1) Set of XLPower80mm Carbon Tail Rotor Blades
(3)DS512HV Digital Servo
(1) DS747RS Rudder Servo
(1) Foam Blade Holder

Needed to Complete:
Transmitter (7-channel or more, helicopter system)
Receiver (7-channel or more)
(1) 6S Li-Po 3000 ~ 5200mAh
(1) Digital Pitch Gauge

Misc. Building Equipment
No matter whether you are a newcomer or a professional, the brand new XLPOWER520 will give you the new flying feel.
1.HPS (High Precision Head System), New head with 2-piece blade grip preserves grips in the event of a crash.
2.To improve the strength and durability of the 10mm high strength steel main shaft,8mm high strength steel spindle shaft,M5 YFS high strength spindle shaft screw. New head with 2-piece.Blade and support 3-4mm aperture,rotor blades compatible size 430mm 470mm 480mm 500mm 515mm 520mm.
3.Brand new CNC metal reinforcement plate effectively increase the torsional strength of main frame, under extreme 3D maneuver, you can strongly feel its solid reinforcement from its structure.
4.Swash-plate servos support medium-sizes servo,the XLPOWER520 lightweight design is 1800g,without battery this effectively increase the power and improves flight time,Tail servo support medium-sizes servos and standard servo,motor support 4020 or 4025.1100KV for 6s,550kv for 12s.Li-Po support 6S 3000Mah-5200mAh.Battery slot H 55mm*W 48mm*L150mm.ESC support 80A-120A.
5.The canopy manufactured with durable lightweight fiber material, the Landing skid is tilted 2.5 degree forward which improves crash worthiness.